Sectional Garage Doors - The Clear Choice
Sectional garage doors are the perfect choice if you want style, durability, practicality, security and quality. Sectional doors open vertically upwards into the space under the ceiling. This allows the best use of space but also means you can park a car very close to it without hampering its operation in any way.
Sectional garage doors can be fitted into any size of garage opening and allow you to make much better use of the space inside your garage as well as the area in front of it. When the garage door is closed flexible, weather resistant seals on all four sides protect the inside while saving you money on energy.
Steel or timber, colour, style - you choose
Traditionally garage doors have been made using wood or metal. Modern sectional garage doors are light years ahead of traditional garage doors. Our steel garage doors are heavy duty and durable. The production process uses hot-galvanizing and high quality polyester primers to create garage doors which require a minimum amount of maintenance over a long lifetime.
Insulation saves energy and money
If your garage is attached to your house then it will probably be one of your main sources of heat loss. Our sectional garage doors have very good thermal insulation properties which helps to reduce the amount of energy escaping and saves you money.
Just look at some
of the benefits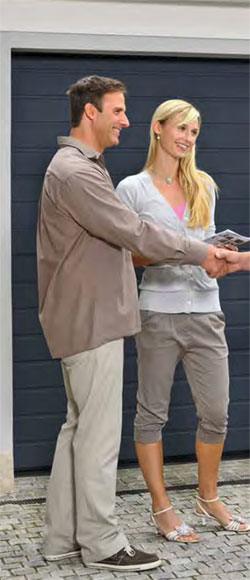 Wide range of colours and decor
Each home has its own architectural style. The design and look of your new garage door needs to fit in seamlessly with your existing property. Additionally, in conservation areas, it is usually a legal requirement for any home renovation or enhancement work to replicate the construction style of the surrounding community. The range and styles of new sectional garage doors we supply make it relatively easy to achieve the perfect solution for your property.
A safe environment for children and pets
Doors fitted with automatic operation have a stop and reverse mechanism. This ensures that during the process of closing the doors will automatically stop and reverse operation if they hit an obstacle. This safety feature is primarily intended to protect children and pets but it also helps prevent dame from accidental operation.
Minimal maintenance on doors design to last for years
Our range of steel doors have optimal protection against rust allowing you to enjoy your new door for years to come. The use of hot-galvanized material protected by a high quality polyester primer coating on both sides means that rain just runs off without leaving streaky marks.
ACE Sectional Garage Doors - we are here to help
Why not call us today to discuss the fitting of a new and beautiful sectional garage door to your property. We are bound to have a style and colour of garage door that will suit not only your taste, but your budget too. We look forward to hearing from you soon.
Call now on
01438 742 664